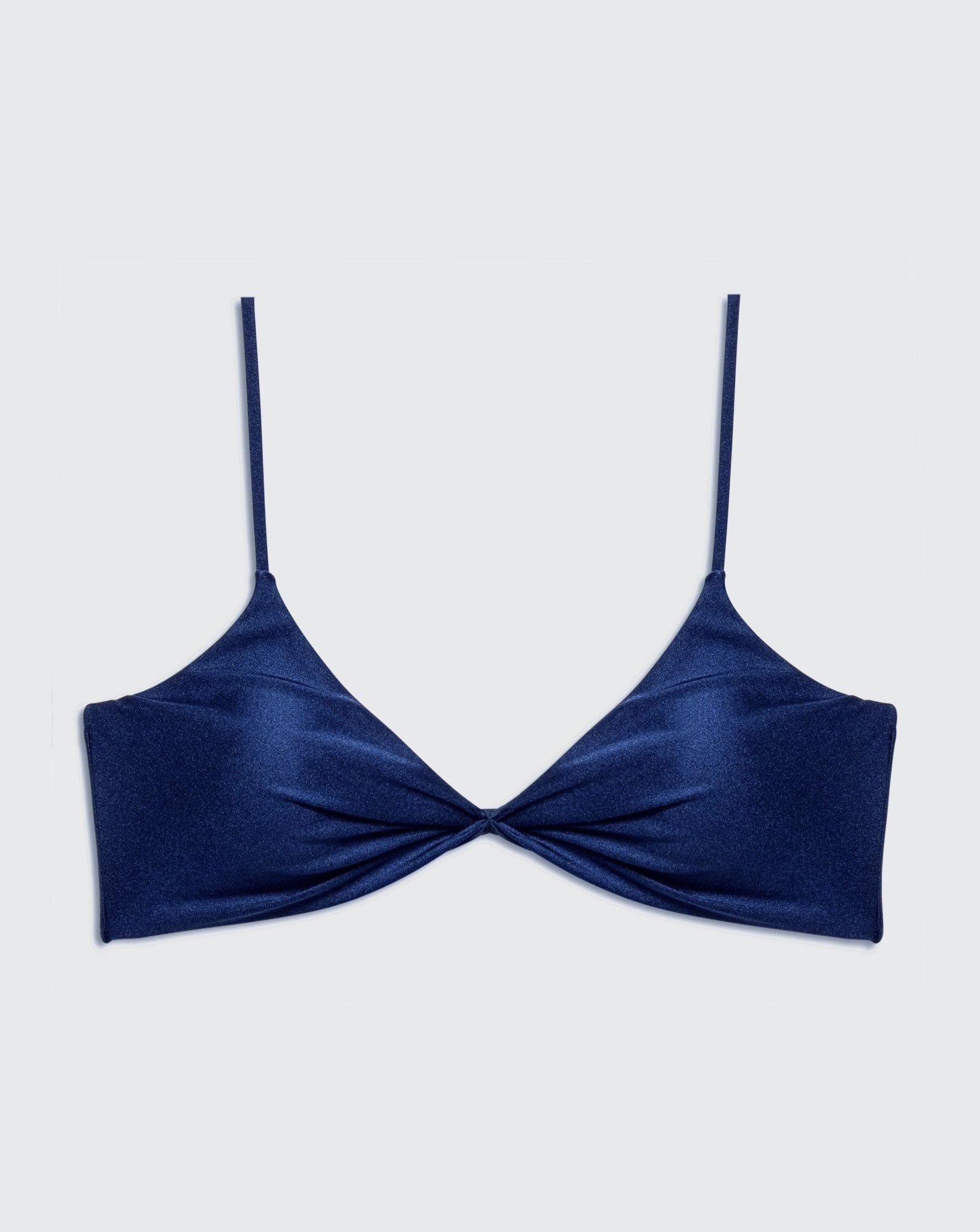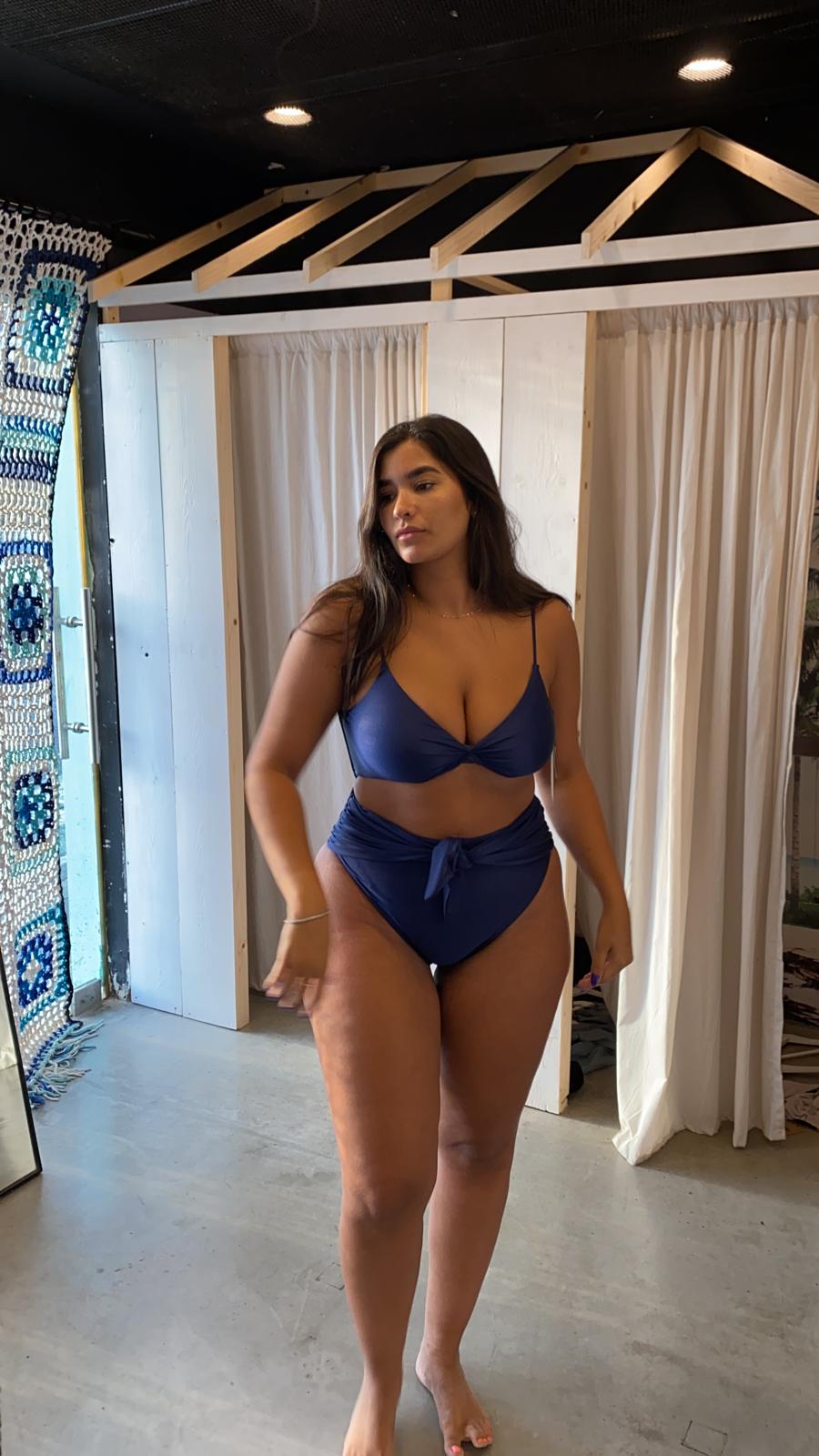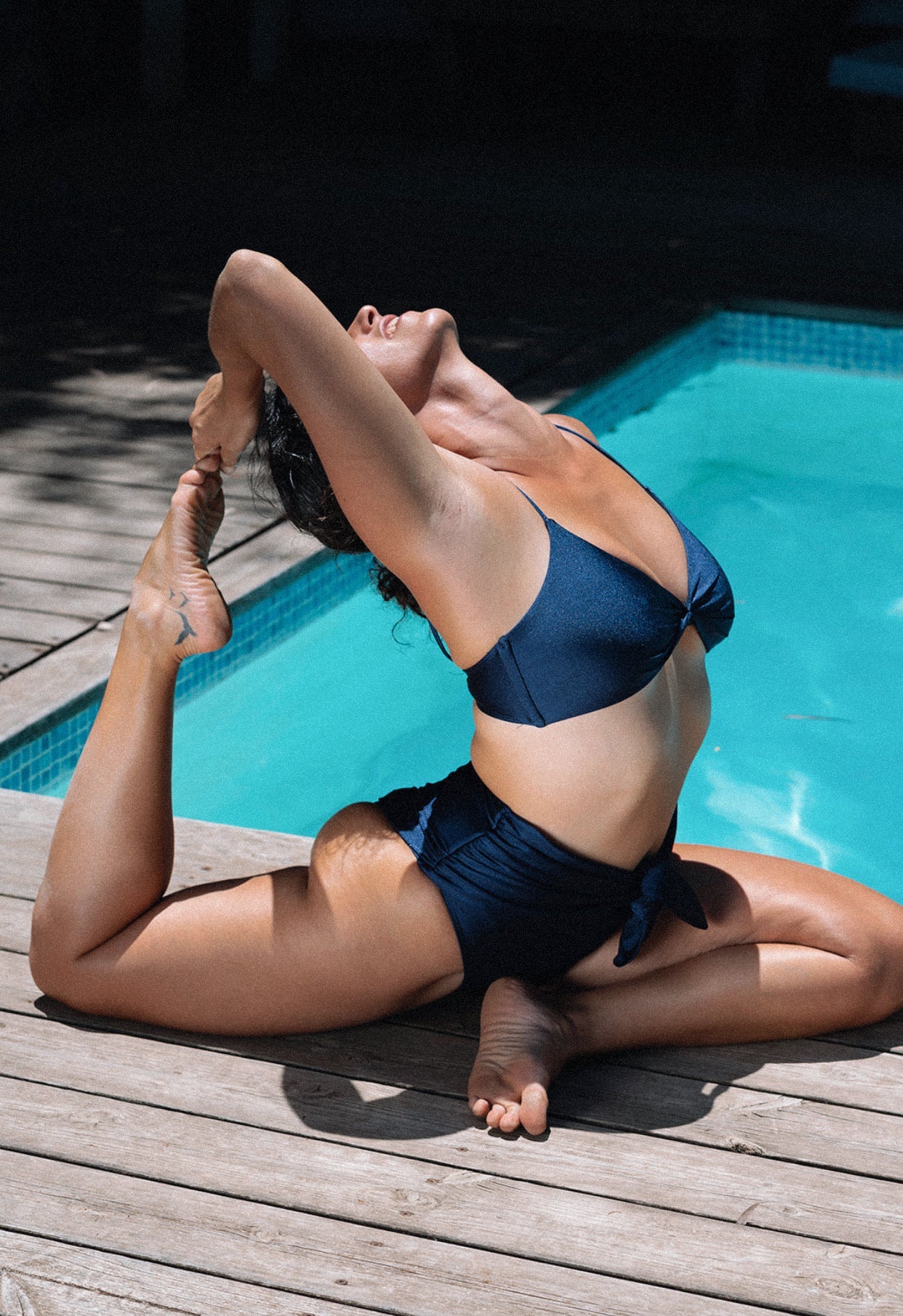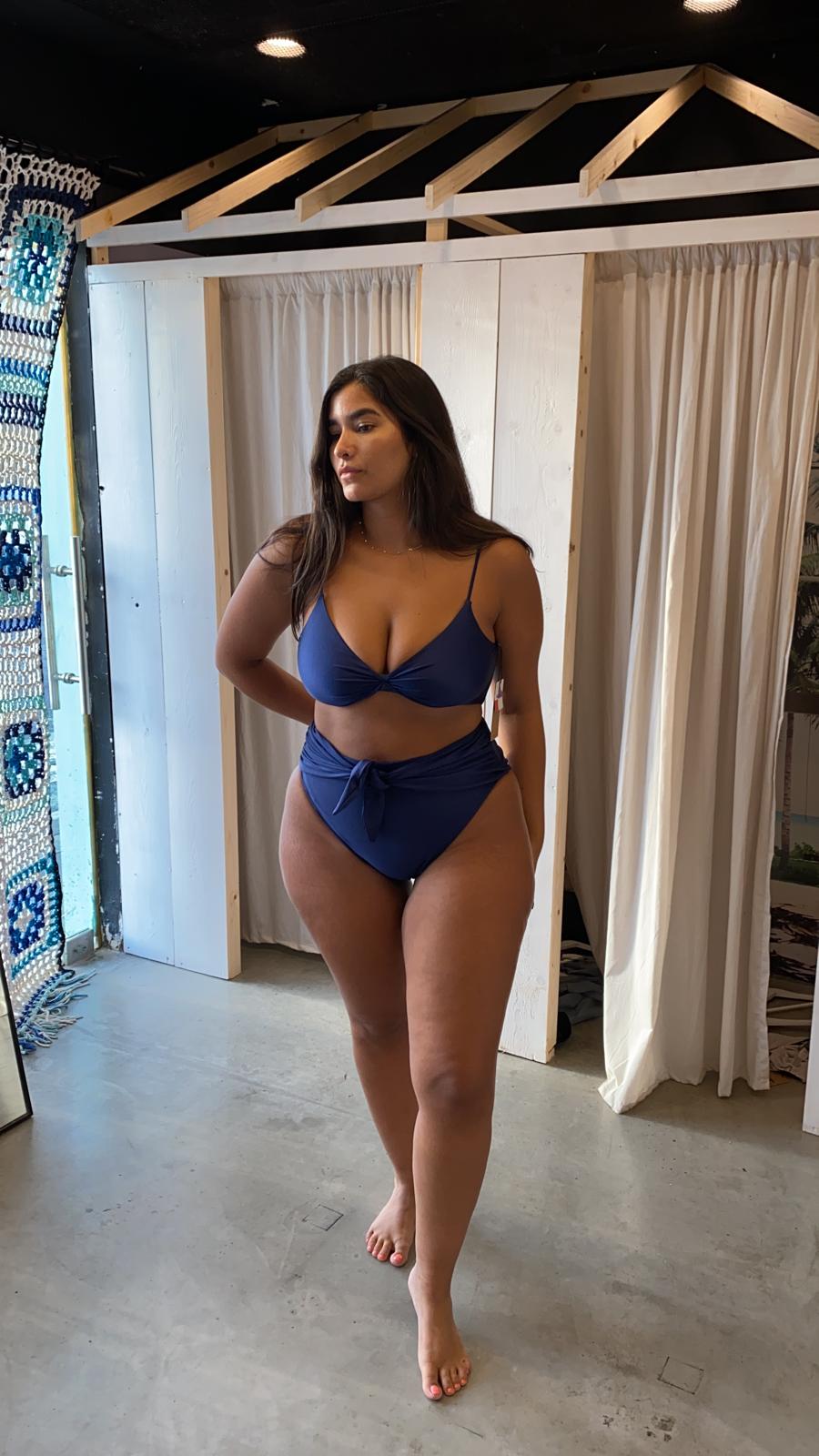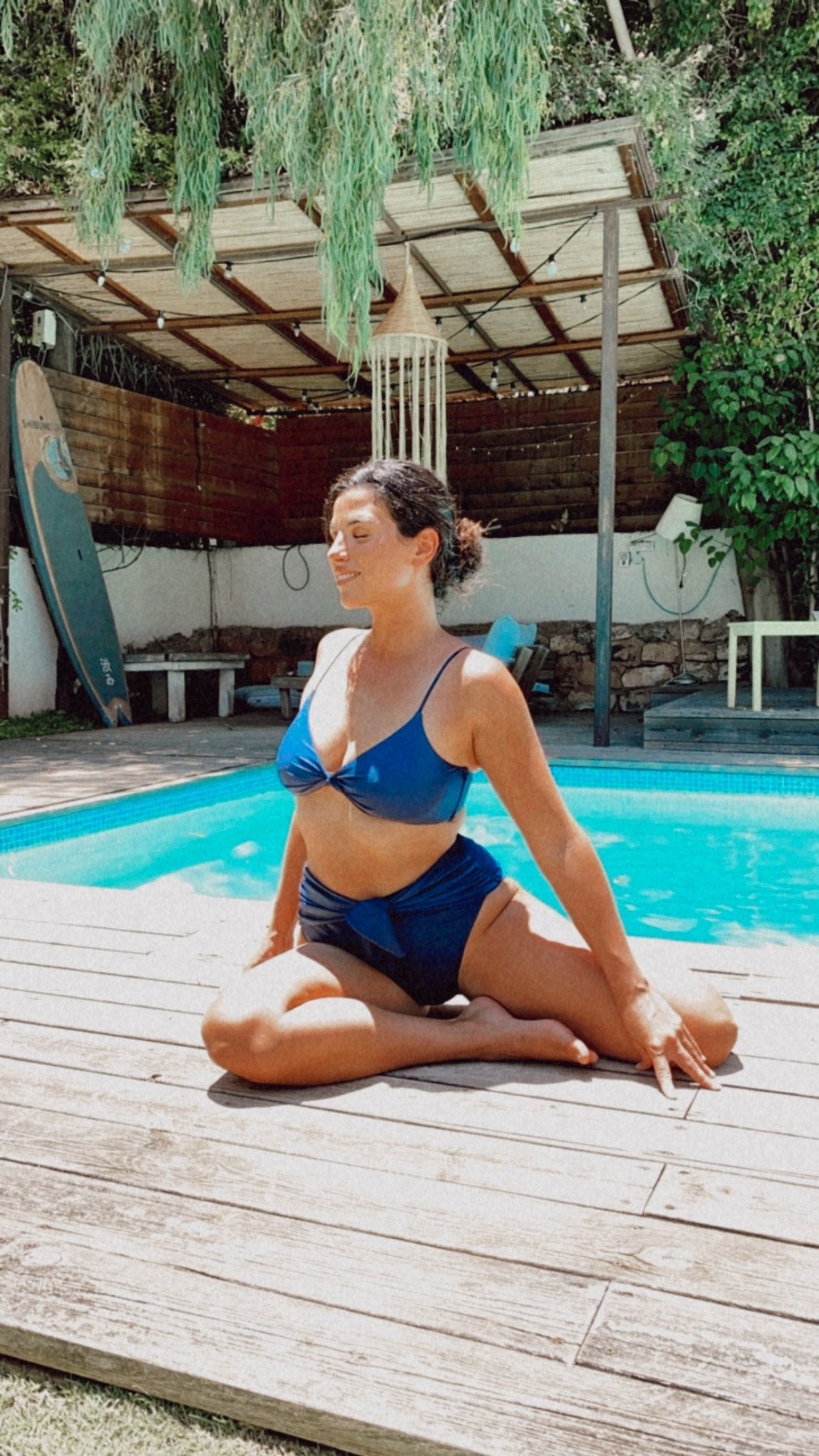 JORDAN TOP Shiny dark blue
Only 3 units left
Triangle shaped top with cinched detail at the front has adjustable shoulder straps, adjustable string tie at the back and boning at the sides. Recycled and renewed shiny turquoise fabric made in Italy. Gentle fabric.

Price refers to top only!
טופ משולש גוזייה, כיווצים, עצמות בצד, כתפיות מתכווננות
קשירה בגב
מחיר לטופ בלבד 
במידה ואת מעוניינת בקאפים יש לבחור
Add cups to your product?

בד מבריק מאוד עדין, יש להקפיד עליו מאוד ולהימנע ממגע עם משטח מחוספס. חובה לשטוף לאחר השימוש. אין לכבס במכונת כביסה בשום אופן.
Hand wash only!
Fabric contains SPF50.
Recycled LYCRA
Model wears size XL 
Other Model wears size L 
RETURNS POLICY
   BLACK FRIDAY POLICY LINK - https://biliblond.com/pages/biliblue-2023 
בלינק מעל החלפות ותנאי בלו פריידיי. 
US and International Customers, please scroll down.
:משלוחים, החזרות/ החלפות לרכישה באונליין במחירי העונה בלבד, לא תקף לסוף עונה
:קבלת המוצר
 (שליח עד הבית- עד 7 ימי עסקים (לא כולל יום הרכישה- למעט ישובים מרוחקים
משלוח חינם ברכישה מעל 450₪ 
ברכישה מתחת ל ₪ 450 עלות המשלוח ₪20
בזמני סייל ייתכנו עיכובים בזמני האספקה 
:החלפת מוצר

החלפת המוצר תינתן אך ורק אם הפריט חדש לחלוטין יימצא עליו תווית ומדבקת הגיינה
תינתן החלפה 14 יום מיום קבלת המוצר- מחייב ליידע אותנו במייל בלבד על רצון ההחלפה עם קבלת המשלוח
:קיימות מספר אפשרויות להחלפה
 החלפה בחנות שלנו, יש להתעדכן בשעות הפעילות דרך האתר.
שימו לב - עקב המצב הביטחוני החנות תהיה סגורה עד להודעה חדשה
החלפה באמצעות שליח עד הבית: עלות המשלוח 30 ש"ח
השליח יביא אלייך את המוצר שאת מעוניינת בו וייקח ממך באותו המעמד את הפריט שנמצא אצלך
לאחר ביצוע ההחלפה תינתן החלפה נוספת עד 14 יום מיום הרכישה המקורית 
:החזרת מוצר
אין החזר כספי על מוצר בסייל או שימוש בקוד הנחה, תתאפשר החלפה או קבלת זיכוי לקניה הבאה
ניתן להחזיר מוצר שנרכש במחיר מלא בלבד כל עוד לא נעשה בו שימוש ויימצא עליו תווית ומדבקת הגיינה
מחייב ליידע אותנו במייל 24 שעות מקבלת המוצר, אחרת לא נאפשר זאת 
:אפשרויות החזרה
ניתן להחזיר פריט עד שבוע מיום קבלתו 
איסוף המוצר באמצעות שליח עד הבית בתוספת תשלום של 30₪ 
החזרה בחנות שבוע מיום קבלת המוצר
לא תתאפשר החזרה באמצעות דואר ישראל
 
ניתן לקבל זיכוי מלא למימוש באתר / חנות
או
החזר כספי בעמלה של 5% דמי ביטול עסקה והפחתת דמי משלוח 30 ₪. – מחייב ליידע אותנו ולקבל אישור על כך במייל או טלפונית.
 לא תינתן אפשרות להחזר כספי על מוצרים בקטגוריית הסייל או שימוש בקוד קופון הנחה
לפי הוראות משרד הבריאות אין החזר כספי על כל מוצר הלבשה תחתונה שנרכש בחנות
אחריות
אנו מעניקות אחריות על בגדי הים שלנו עד 7 חודשים מפני פגמים שמקורם בתהליך הייצור. לאחר מכן, כל בלאי ייחשב כבלאי טבעי.
 תקופת האחריות תחל מיום קבלת הפריט ולצורך מימוש האחריות אנא שלחי לנו הודעה במייל בצירוף הקבלה/מספר ההזמנה שלך.
 לא נוכל לקחת אחריות על פריטים מוכתמים או משופשפים 
מימוש קוד קופון
.במידה ולקוחה תרצה החלפה- ההנחה תשמר רק בהחלפת מידה ולא דגם
במידה ותרצה להחליף דגם- ייתכן זיכוי עבור הסכום ששולם 
אפשר ליצור איתנו קשר בשעות הפעילות
לכל שאלה ניתן לפנות אלינו
מייל - sales@biliblond.com
ווצאפ 
+972 (0)3 7743555
 EXCHANGE/ RETURNS POLICY - INTERNATIONAL COSTUMERS
If you are not completely satisfied with your purchase, you may return it to BiliBlond. Send us an email to: sales@biliblond.com letting us know you wish a return within 3 DAYS of receiving your order. As long as you contacted us within the 3 days, we will allow the return no matter our response time.  You will get a return link from us to send the package back, we deduct 55ILS for shipping and handling purposes.
Please note We do not accept products that have been worn, altered, or washed. All swimwear returned must be in new and unused condition with sanitary strips in place. All returns must be in the original packaging with all tags attached. 
If you receive a damaged item, please contact sales@biliblond.com immediately upon receiving your item. We will request photos of the damaged item(s) and once evaluated, we will inform you if a replacement is possible. We will refuse any packages that are not approved.
Please allow 5-12 business days for refunds to be processed once your return package has been delivered. Please allow 1-6 business days for the refund to show up on your credit card statement. 
FINAL SALE
All sale items are final and are not subject to our refund policy. FINAL SALE items are not eligible for an exchange, return, or price adjustment. 
Discount codes are not valid on sale merchandise unless specified. 
We understand that final sale purchases can be frustrating. However, please know that pricing on final sale items are below cost and discounting this low is rare. Because of this, we need to be strict about not accepting any returns on final sale items. We hope you can understand our position. If you need assistance with sizing or fit, we are here to help! Please contact us at sales@biliblond.com.
We can not guarantee inventory during this time as items sell out quicker than our system can refresh. We truly apologize for any inconvenience this causes. It is our hope and intention to fill all orders completely. 
BILIBLOND reserves the right to make changes to the sale at any time. We do not offer price adjustments on Final Sale items.